Concrete Flooring in South Jersey
Reputable Residential & Commercial Epoxy Flooring Contractor
If you are considering having a new floor installed, or want to upgrade your current flooring from its worn, tired condition, why not reach out to our team about concrete solutions?
If you are looking for an option that is sturdy and affordable, yet can be applied in innovative ways to appear stylish and creative, we have many selections available to choose from.
For any residential and commercial property, our technicians at Alliance Building and Maintenance can offer a bountiful array of concrete floor installations and epoxy coatings that will last you for many decades to come. We serve both residential and commercial customers in the following areas of South Jersey:
Burlington County
Ocean County
Camden County
Atlantic County
Gloucester County
Salem County
Cumberland County
Cape May County
Contact us now at (609) 928-8558 to learn more about our exciting range of concrete flooring products in South Jersey.
Ready to Get Started?
request Your Appointment Today!
Call (609) 928-8558 Or Use Our Form Below
Alliance Guarantees Your Satisfaction
Streamlined Processes & Proactive Communication

We Provide References & Your Satisfaction Is 100% Guaranteed

Complementary Project Quotes & Estimates
Proud of Our Projects
Take a look at some of our most recent roof, siding & storm restoration projects.
Reasons to Install a Concrete Floor
While many people do not immediately consider concrete floors as their first choice in aesthetic floor materials, in comparison to options like marble or wood, there are many reasons why a concrete floor could benefit your residence or commercial enterprise.
Some of the superior benefits of installing a concrete floor include its:
Durability – Particularly if your residential or commercial property endures a lot of traffic from people walking back and forth, tough concrete floors are the optimal way of keeping your location safe and secure from repeated wear and tear, stains, cracks, and any other abrasions.
Unique designs – Concrete does not have to be boring when you have our stylish finishes in creative designs. We can also apply non-slip fixtures and textures to make them even safer as well as attractive.
Affordability – Unlike other surfaces, such as wood, vinyl, carpet, or even marble, which need to be replaced after a certain number of years, trusting in highly durable concrete means that you will save a lot of expensive replacements. Concrete itself is also much cheaper and quicker to install from the get-go.
Low maintenance – Let our superb concrete floors amaze you with how easy they are to clean and maintain, allowing you to have more time to devote to other essential tasks.
Epoxy Concrete Coatings in South Jersey
One of our specialty services provided here at Alliance Building and Maintenance is our superior installations of epoxy coatings in South Jersey. This kind of flooring has become extremely popular for the use of both commercial and residential buildings, and for good reason.
The way that this coating works is that it is applied to a smoothly prepared concrete surface. The coating itself is made of a superior combination of resin, as well as a type of hardening material. Together this compound creates a profoundly strong surface, that is not only resistant to stains and easy to clean but is beautiful as well.
Although it slightly depends on where the floor coating is installed and how much foot traffic it receives, epoxy coatings are known to last 10 years or longer. Some of our coatings that are installed in residential areas, such as indoor gyms, crawl spaces, cellars, basements, or garages, are even known to last several decades.
Even if epoxy has been applied in a place with more regular foot traffic, like a hospital or office building, it can last for many years, so long as it has been properly installed – which you can guarantee will occur if you reach out to our dedicated technicians at Alliance Building and Maintenance.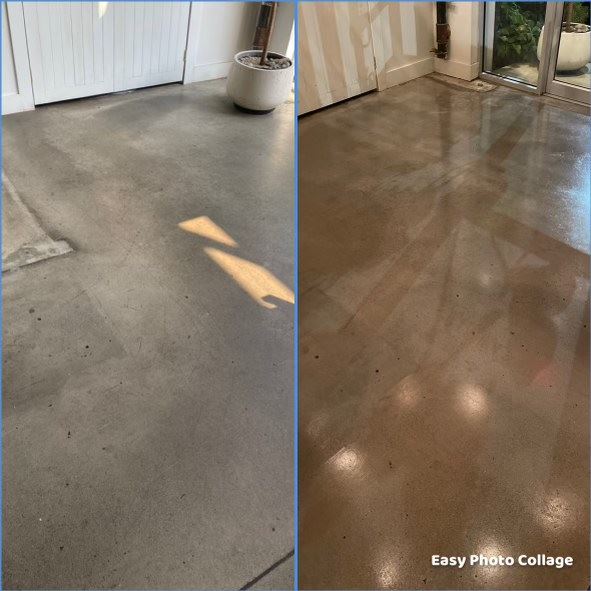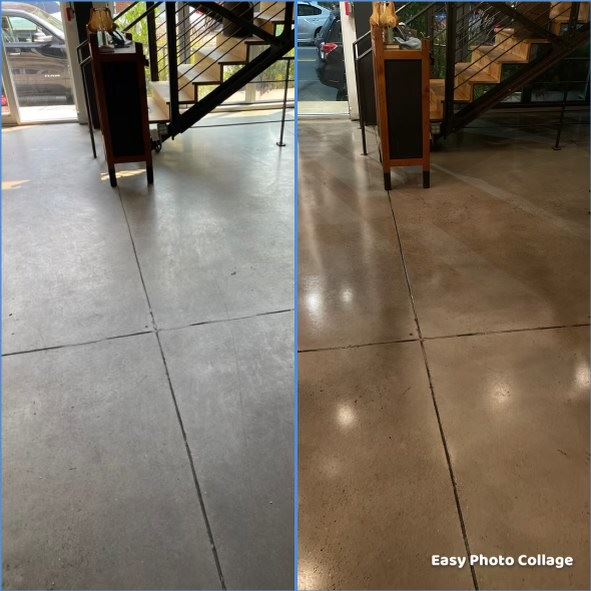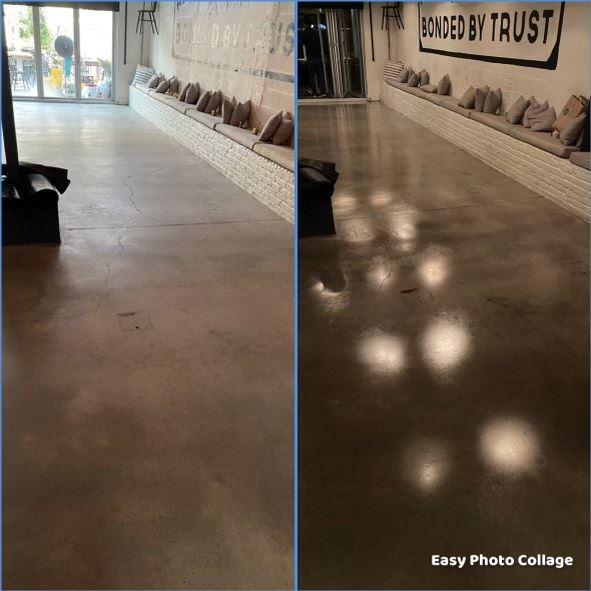 Call us today at (609) 928-8558 or contact us online and we will be able to arrange a complimentary estimate to discuss your South Jersey concrete flooring project.